ERIC H. ROFFMAN
PERFORMING, WRITING, AND DIRECTING
201 871-0950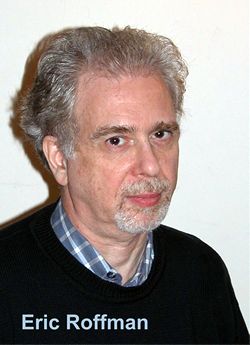 EricRoffmanPerformanceResume.doc
EricRoffman_HS01_lowres.jpg
EricRoffman HS01_mediumres.jpg_
CURRENT PROJECTS
QPORIT-- Quick PREVIEWS Of Random Interesting Things -- A BLOG with Audio and Video
HOW TO PREDICT THE FUTURE -- AN EVENING OF SCIENCE THEATER
THEATER PERFORMANCE
Love's Will -- (Also adapted and directed for the stage) -- Love poetry in performance for Valentine's Day -- At Blue Heron Arts Theater
Love Is My Sin -- The Man -- (Also adapted and directed) -- Two character drama -- At TSI/PlayTime
Antigone --Leader of the chorus
Under Milk Wood --First voice, Reverend Eli Jenkins
In White America --Various characters
FILMS
Annual Report --The CEO - (Comic monologue presented at LotusSphere national convention -- Also wrote and directed)
Student Film -- The Father
Industrial for IBM

CABLE TV AND RADIO
Speaking Out on Film (Cable TV show -- Also directed)
Movie Watch (Cable TV show)
"On the Oscars" (WCAU Radio)
CORPORATE SPOKESMAN
IBM --Internet and Research Divisions
Designed, produced, directed and presented some of the most popular new technology demonstrations within IBM; featured at IBM's most important events around the world, including the visit to IBM by the Premier of China.
Demonstrated technology to IBM's senior executives and Board of Directors. Spokesperson for on-line advertising technology, rich media, and collaborative computing to senior and junior executives at some of the world's biggest corporations.
Appeared on television in the US and Europe.
COMPUTER GAMES
Millennium Auction – Invented and developed award winning multimedia CD-ROM game
Laser Shuffle --Helped design and develop the first coin-op game to use live action interactive video.
SOME REVIEWS OF MILLENNIUM AUCTION
· Business Week; Digital Pioneers; May 2, 1994 cover story.

· PC Magazine; Best Products of 1994; January 10, 1995 cover story.

· PC World; Best CD's of 1994; Top ten lists of both the Games columnist and the Entertainment columnist; December, 1994 cover story.

· Games; 1995 Buyer's Guide to Games; "One of the most sophisticated and imaginative programs we've ever seen."

· Electronic Games; John P. Wither's wrote, "Once in a while a totally unique game comes along. ... a game that brings back faith that there are still developers in the world with an entirely different skew on life. ... It is original, something that can be said for a vanishingly small number of titles." October 1994.
SCRIPTS: Love Is My Sin (Short Play, Adaptation of Shakespeare's Sonnets); Adaptation of Chekhov's "Lady With A Lapdog" (Also directed); The First 22 Minutes (Short play); Labor Day, 2002; (One act play); The Doctor (Short play); The Apple (Short play); Annual Report (Comic monologue).
TRAINING includes: Performance: Sam Waterston, Jerry Stiller, Anne Meara, Austin Pendleton, William Packard, Michael Moriarty, Rosemary Harris, Stephen Strimpell, Oleg Tabakov, Paul Sills, Jill Clayburgh, Frank Geraci, Nikos Psacharapoulos, Peter Arcese, Salem Ludwig, E Katherine Kerr, Jay Michaels, Mariana Loosemore; AADA; Writing, Directing and Film Making: Aleksey Burago, Gene Frankel, Stan Vanderbeek, Tracey Jackson.
REPRESENTATIVE ROLES: Valmont in Les Liaisons Dangereuses, Brack in Hedda Gabbler, Angelo, in Measure For Measure, Bohr in Copenhagen, Astrov in Uncle Vanya, Ben in The Tiger.
PERSONAL: 5' 8" 175 LBS -- Expert in photography; Interactive project planning and development; Streaming video; Flash.
INTEEM PRODUCTS - INTEEM SERVICES
HOW TO PREDICT THE FUTURE: HTPTF SPECIAL FEATURES - HTPTF CONTENT
HTPTF HOME - BLOG HOME - INTEEM HOME
(c) Copyright 2004-2005 inteem! Corp - all rights reserved.